Unlike most schools that have students as the instructors, all classes at our Dojang are personally taught by Korean Master Kim. Learn the most popular sport/martial art for FREE.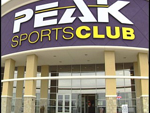 As a member of Peak Sports Club, all TaeKwonDo classes are free, yes... FREE!
For any questions about classes taught by Master Kim, use the link Contact Us on the Main Menu or Click Contact Us.
Already a student of Master Kim, but not a member of this website?
As they say, "Membership has its privileges".

Registered users get access to members only info like:
* Articles * Downloads * Videos * Dojang Forum
Register today to become a member of Kim's TKDojang.